It is common among so many people who love golf sports to ask what other businesses can do instead of merely opening a golf shop. After all, there are several pro golf shops out there already in a growing market. This article will suggest some other kinds of businesses concerning golf that you can give a shot.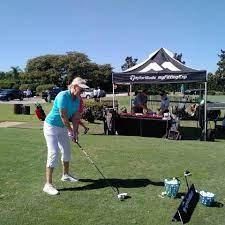 Alternative Golf Business Ideas
1. Sell Golf Products on eBay
Many pro golf shops out there are independent stores that may not have dropshipping resource programs. There comes the use of eBay as an online marketplace for all sorts of items that anyone may need. These items are also in diverse categories, such as manufacturers, wholesalers, and liquidation company products. Kindly note that we are referring to grossly discounted and practically unused equipment and tools.
2. Train to become a Golf Trainer
Becoming a golf trainer is another option to get into the business of golf as a sporting activity. Usually, personal trainers can quickly learn the needed skill and earn the qualification and appropriate certifications of the profession. As the career grows, the trainer can begin to make money by teaching people how to play golf and practically show them the basics. At the same time, some trainers may choose to work at fitness centers instead but will always find their clients on the golf course.
3. Write a Golf Tips eBook
If you know well about golf by experience and write well, this opportunity is for you. The truth is, even if you're not too good at writing, you can hire someone to put together a good book for you on golf. And what about the audience? Many people out there want to go into the game of golf and are willing to learn the skills. Other people have already started but still need to improve your game. Writing and selling an eBook to these two categories of people can make good profits from the direct sale or online publishing while the latter is cheaper.
4. Teach Golf Video lessons online
In one way, people don't mind reading eBooks on playing golf. On the other hand, others prefer to watch tutorial videos of the actual act and practice playing golf with all the skills and techniques. Meanwhile, while watching these online tutorial videos, they can actually be practicing what the videos teach. Obviously, this method is a cheaper way to learn golf than taking golf classes. Apart from the cost, the would-be students may not have enough time to attend physical golf classes. But online learning allows them to learn at their own convenience.
5. Begin a Golf Advertising Agency
In a golf advertising agency, you can promote other golf businesses integral to their business. Since marketing plays a crucial role in business development, many companies will like to outsource this job to a specialized advertising company. As a result, marketers will remain relevant to running a successful business. A vital part of that is digital marketing. However, you need to develop these skills the right way and also gain relevant experience. In the digital world, it is not difficult to run from the comfort of your home.
6. Production of Golf Balls
Many people can make money from different sports balls, including golf balls of high quality. Therefore, producing balls is one way to encourage other people to show interest in sports when the balls are available. In the future, you may eventually get a lucrative contract that has to do with ball production for significant events or competition. In some similar cases, you may think propose a partnership with some organizers of main competitions in your locality to outsource ball supply to you.
7. Production of Golf Cartons
Another sports-related business for you to consider is the production of golf cartons by a good craftsman and graphic artist. Alternatively, you may need an animation expert to fix some designs for you. Depending on the modern taste, you can make designs with other sports such as wrestling staff, boxing, basketball, rugby, football, and even golfers. In case young children are part of your target audience, then you should include cartoon designs. At the same time, ensure you pick the best categories of favorite stars that people will love to see and attract more sales.
8. Start a Golf Kids Club
The game of golf fascinates not only the elderly but also kids and young adults. So, since kids find it fascinating, that provides the opportunity for you to groom young talents in the game. You can start a program to train the more youthful generation at an early stage while making profits for the future. On the other hand, you can create golf events where you also invite other kids from the neighborhood, teaching them golf. In a more formal setting, parents can even enroll their wards in your golf club as a form of extracurricular activity.
9. Create a Golf game
In the digital world of smartphones, you may want to create a gaming app for golf. Although this step requires some programming skills, you may outsource the job to the tech guys, and they will do it in no time. In addition, the gaming app for golf will be based on the valid rules of the game so that it can also serve an educational purpose to understand the core values of the game. Besides, it is also essential to launch the app on a monetized platform where you can also earn on the side.
10. Create Golf Souvenirs
People travel from different places to witness golf tournaments in other countries such as Australia. Therefore, one way to make their trip memorable is to create fanciful souvenirs that they can buy and take with them. When these visitors return to their countries, they can keep these memories. For instance, if you are a fan of Tiger Woods and travel a long distance to watch him play, it will make sense to buy and keep one of his balls or other items as a souvenir.

Conclusion
As it stands, there are several profitable businesses that you can venture into, apart from starting up a pro golf shop. However, some of these alternatives require a passionate pursuit and special skills, including business, entrepreneurship, and innovative ideas. Without these essential ingredients, it may be nearly impossible to meet up the market demands and build a successful income from a business.